Lodging
"The Barracks"
Our WWII themed "Barracks" offers our clients a one of a kind overnight accommodation with all modern amenities. The Barracks are designed to allow our clients to stay at DriveTanks.com and continue their adventure by experiencing the Ox Ranch's amazing  activities.

$1000 activity minimum required to book

Each room has 2 Queen Size Beds and an  Roll Away Bed if required.

Your Barracks lodging experience will also include a dinner prepared by the ranch's award winning chef.
The "Barracks" room rate includes the following:
Breakfast, Lunch and Dinner prepared by the ranch's Award Winning Chef.
Use of the Ranch's Amenities, including the Hunting Lodge, Lakes, Pool, and Hot Tub.
All Inclusive alcoholic beverages. Complimentary stocked beverage fridge/mini bar.
Barrett .50 cal shooting (two shots per person)
1x Flamethrower Experience During Operating Hours Only – Additional Tanks maybe purchased at a discounted rate

(DT Only Option) 

Skeet shooting (one box of shells per person)
A Personal Ox Ranch Guide will be escort you to all of your desired activities.
Fishing in our stocked lakes.
4-Wheeler tour of the property (Weather permitting)
Safari Tour

Cave exploration
Giraffe feeding.
Tour and Viewing Actual Dinosaur Tracks located on Ox Ranch.

Exclusive a

ccess to the DriveTanks.com facility and Patton Lounge during operating hours.

*Barracks All-Inclusive activities are optional and may be unavailable depending on weather, availability, and breakdowns.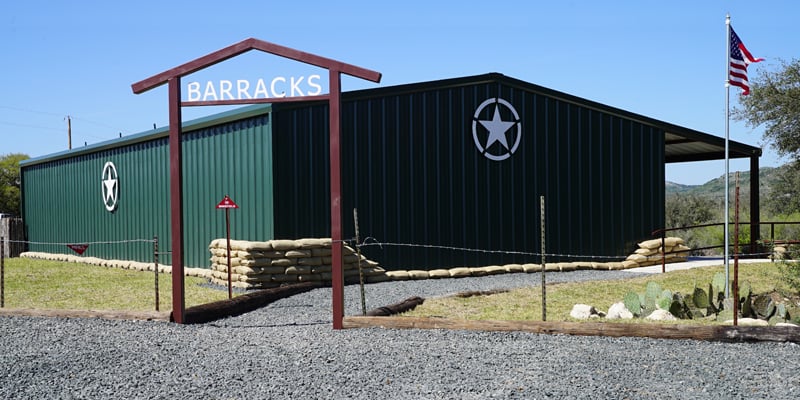 The only limit to what can do and see will be the number of hours in a day. Your activity level is entirely up to you and your party.  Your personal guide will keep you going in any activities that you enjoy during your stay.

The DriveTanks.com "Barracks" lodging all-inclusive package is priced per night based on double occupancy per room. Rooms have two queen sized beds with roll away capability if required. Additional all-inclusive fees will be charged at a per person rate per night when you would like more than two people per room (see pricing).

"Barracks" Pricing:
Weekday: $1000 per room / per night / up to 2 persons

Weekend: $1,250 per room / per night / up to 2 persons
(this is an all-inclusive price for both people)
Each additional person age 17+ is $500.00/$625.00 per night

Each additional child age 11-16 is $200.00 per night

Each Additional Child 4-10 is $100.00 per night

Each additional Child under 4 is FREE

There is a $50 discount off the price of each room when booking both rooms

Check In time is 1:00 pm and Check Out time is 11:00 am

 $1000 activity minimum required
Alternative Lodging Option on Ox Ranch:
Cedar Cabins are a hotel style cabin with 2 queen beds, full bath, television, wifi, mini fridge, microwave and a coffee maker.  Porch with rockers.

BBQ pits and picnic tables throughout the cabin area.
No Pets allowed, Service animals welcome.

Meals – Breakfast, Lunch & Dinner is included

Additional Meals are available at our DriveTanks Mess Wagon


Check In / Out

Check In: 1:00pm
Check Out: 11:00am

For additional information on our Ranch Activities please be sure to check out out Ox Hunting Ranch Website

For more information & Booking please contact us: +1 (830) 275-4962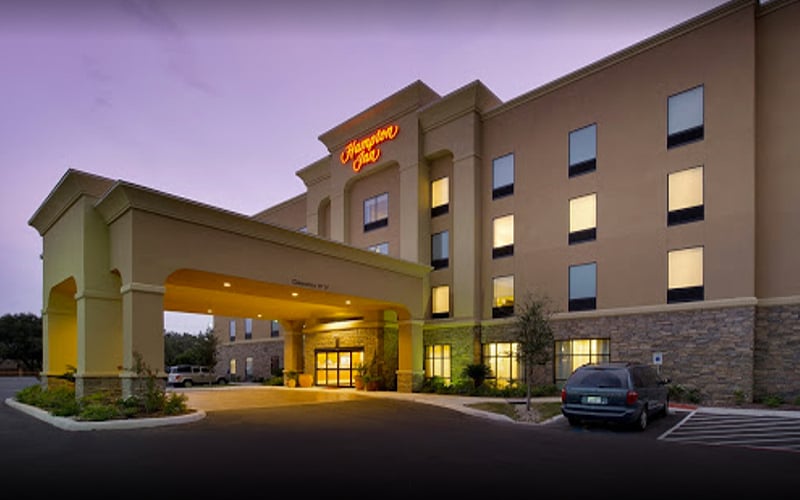 Alternative Lodging Option In Uvalde:
For those who prefer a more normal hotel stay, Drivetanks.com has combined with the Hampton Inn just down the road in Uvalde to bring you a special discounted rate just for our guests.  Just give them a call directly at (830) 278-1300 and tell them you are with Ox Ranch/DriveTanks.com and they will set it up for you.