Lodging
"The Barracks"
Our WWII themed "Barracks" offers our clients a one of a kind unguided overnight accommodation with all modern amenities. The Barracks are designed to allow our clients to stay at DriveTanks.com and continue their adventure by experiencing the Ox Ranch's amazing  activities.

Each room has 2 Queen Size Beds and an  Roll Away Bed if required.
The "Barracks"  Enlisted room rate includes the following:
Lodging – No Guide – No Ox Ranch Activities
Includes Meals

Breakfast: Buffet
Lunch: Soup / Sandwich / Salad Bar & Beverages
Dinner: (your choice) Includes Beverages, Chips or Fries:
▪ Cheeseburger
▪ Chicken Sandwich
▪ Hot Dog
▪ Grilled Cheese
▪ Chicken Fingers

● Free Flamethrower Experience (A $350.00 value)

Free Activities In Compound Areas
● Swimming Pool / Hot Tub
● Tennis
● Basketball
● 9-Hole Putt-Putt Golf Course
● Surface Arrowhead Hunting
● Kayaking and Paddle boarding
● Fishing for large mouth bass and catfish from shore or in kayaks – Please bring your own
rods, reels, and tackle (catch and release)

 
The "Barracks" All-Inclusive Officer room rate includes the following:
Lodging
Chef-Prepared Meals
All-Inclusive Beverages


Use of the Ranch's Amenities, including:

the 6,000 Square Foot Hunting Lodge ( Stocked Bar, Arcade, Pool Table, Shuffle Board, Big Screen TVs)
Stocked Lakes for fishing and swimming ( Must bring own poles and tackle)
Fire Pit Outside Barracks
Tennis/ Basketball Court
Play Ground
Pool
Hot Tub
9-Hole Mini-Golf (Putt-Putt) Course

Free Group Activities – Guide Required

Barrett .50 cal Shooting ( 2Rounds per person)
Skeet Shooting (25 Shots Per Person)
4-Wheeler Tour of the Ranch ( 2 Hours per guest, age 16 and above)
Photo Safari Tour
Feeding Giraffes
Dinosaur Tracks
Cave Exploration
Water Activities away from main compound including bass boats located at key fishing holes.

All Inclusive alcoholic beverages. Complimentary stocked beverage fridge/mini bar

Stocked Fire Pits

Amazing Night Time Star Gazing

Exclusive access to the DriveTanks.com facility, Museum and Patton Lounge during operating hours.

*Barracks activities are optional and may be unavailable depending on weather, availability, and breakdowns.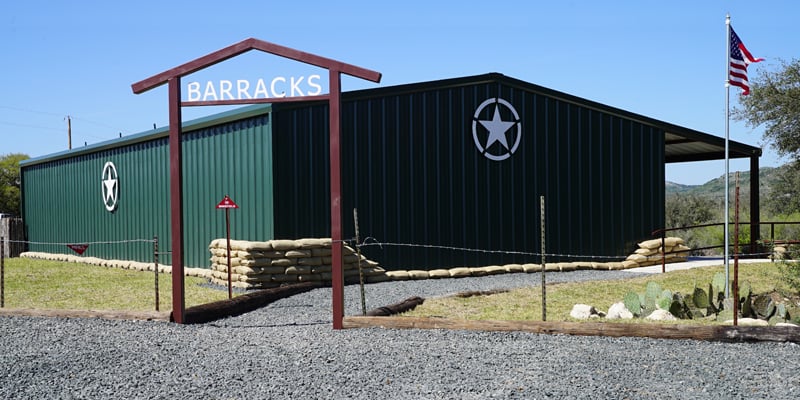 The DriveTanks.com "Barracks" offers our guest a one-of-a-kind overnight  accommodation with all modern amenities. Each Barracks room has 2 queen beds and a roll away is available upon request. The DriveTanks.com "Barracks" lodging is priced per night based on occupancy up to 4 adults and 1 child. Additional rooms can be booked for larger groups.

"Barracks" Pricing:
Enlisted Rate:

Weekday: $850 per room / per night (up to 2 adults) (Mon-Thur)

Weekend: $950 per room / per night ( up to 2 adults) ( Fri-Sun)

Additional People:

Children 4-10: $100.00

Children 11-16: $150.00

Persons 17+ : $250.00

All-Inclusive Officer Rate:

Weekday: $625 per person/ per night ( Mon-Thur)

Weekend: 750.00 per person/ per night ( Fri-Sun)

Children Ages 11-16: $400 per night

Children Ages 4-10: $300 per night
*Gift Cards Can Not Be Applied To Officers Rate Lodging

Booking Details:

Drivetanks.com activities are required and must be booked in advance
Check In time is 1:00 pm and Check Out time is 11:00 am
Payment: All balances must be paid in full prior to departure at check-out time
Cancellation Policy: A minimum 48 Hours must be given for any cancellations
No pets are allowed, Service animals are welcome
Alternative Lodging Option on Ox Ranch:
Cedar Cabins are a hotel style cabin with 2 queen beds, full bath, television, wifi, mini fridge, microwave and a coffee maker.  Porch with rockers.

BBQ pits and picnic tables throughout the cabin area.
No Pets allowed, Service animals welcome.

Meals – Breakfast, Lunch & Dinner is included

Check In / Out

Check In: 1:00pm
Check Out: 11:00am

For additional information on our Ranch Activities please be sure to check out out Ox Hunting Ranch Website

For more information & Booking please contact us: +1 (830) 275-4962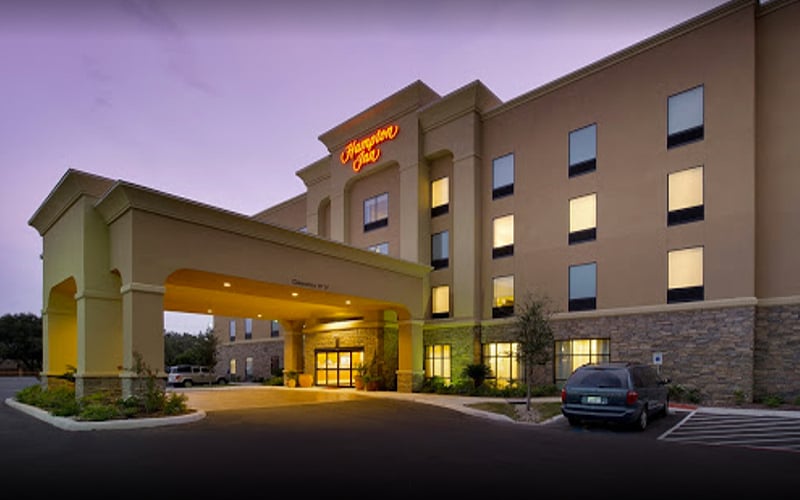 Alternative Lodging Option In Uvalde:
For those who prefer a more normal hotel stay, Drivetanks.com has combined with the Hampton Inn just down the road in Uvalde to bring you a special discounted rate just for our guests.  Just give them a call directly at (830) 278-1300 and tell them you are with Ox Ranch/DriveTanks.com and they will set it up for you.